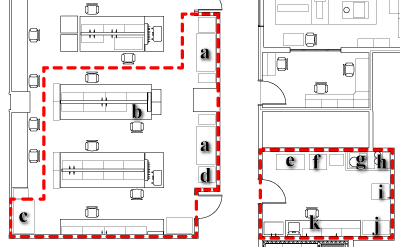 The PrEP service produces large amounts of high purity protein for use by investigators. It uses bacteria as well as insect expression systems. The primary use of the protein is for structural biology work. The prep service occupies about 1200 sq. ft. of the Scott Research Tower and has 2 support staff which are shared with the CSG service. Key equipment is listed below.
Id
Description
Image
a
ÄKTA pure chromatography system allows for quick and easy customization thanks to the modular design of both the hardware and software.
b
Thermo Scientific™ NanoDrop™ One microvolume spectrophotometers are pushing the boundaries once again with the Thermo Scientific™ Acclaro™ Sample Intelligence Software that helps you undersatnd the quality of your sample beore you use it in downstream applications.
c
The Innova 44 incubator shaker and 44R with added refrigeration are stackable shakers that provide very broad temperature capabilities for culturing a wide variety of organisms in flasks up to 5 L. The cast iron triple-eccentric counterbalanced drive is specifically designed to support high speed applications and heavy workloads.
d
ThermoFisher Ultima II -20 upright freezer for local cold storage of samples.
e
Sorvall Legend RT Refrigerated Benchtop Centrifuge with a wide assortment of rotors.
f
The Thermo Scientific™ Sorvall™ LYNX 6000 superspeed centrifuge features powerful technologies with breakthrough simplicity, from push-button security and application flexibility of Thermo Scientific™ Auto-Lock™ rotor exchange, to immediate rotor detection and programming of Thermo Scientific™ Auto-ID instant rotor identification, and the improved ergonomics and performance of Thermo Scientific™ Fiberlite™ carbon fiber rotors. Achieve high-throughput sample processing up to 6L capacity and up to 100,605 x g, with the flexibility to support multiple users and the evolving research needs of a shared laboratory setting, and designed for reliability for consistent results and maximum uptime.
g
BioFlo 4500 is an industrial fermentor/bioreactor with the power, versatility and advanced controls for microbial, insect and mammalian cell culture, in applications ranging from research through small-scale production. A wide array of options enable configuration to your individual process requirements, without the high cost and delays normally associated with purchasing a custom fermentor.
h
The Sterilmatic is dependable, and ideally suited for laboratories, veterinary clinics, processing plants and more.

Automatic temperature contro, heats to 121°C (250°F)
Operating pressure: 15psi (1 atm/100kPa)
Front-mounted controls with 60-minute timer
Features switch for instruments or liquids, and simple operating instructions
Fast preheating—reach sterilizing temperature in 8 to 10 minutes from cold start, 3 to 7 minutes in continued use
Doors lock automatically and cannot be opened until pressure is exhausted
Removable doors of 12 guage stainless-steel
Incorporate low-water cutoffs, safety valves, thermostatic steam trap
Release pressure and shut off power supply at end of cycle
Polished stainless-steel exterior with adjustable feet
Clad aluminum interior chamber
i
Sanyo MIR-553 Heated and Refrigerated Incubator with accurate temperature control and uniformity used for insect cell cultures.
j
The Amersham Biosciences AKTA FPLC System is a biocompatible, high performance liquid chromatography system for the fast and easy purification of proteins. Providing flexibility and reliability in every run, the AKTA system provides a unique combination of flow configuration and methods support for all chromatographic techniques including gel filtration (size exclusion) chromatography, anion exchange chromatography, cation exchange chromatography, hydrophobic interaction chromatography, and affinity chromatography. The compact and flexible design with an expandable rack allows the use of longer chromatographic columns and automation kits. The AKTA FPLC fully meets the demands of modern purification media by utilizing AKTAdesign and UNICORN to provide reliable results and system versatility. This system features flow rates up to 20 ml/min and pressures up to 5 MPa across one working platform for scale-up production.
k
The Avestin Emulsiflex C3 is a lab scale, electric motor driven, high pressure homogeniser that rapidly reduces particles and droplets from micron to nanometer sizes.